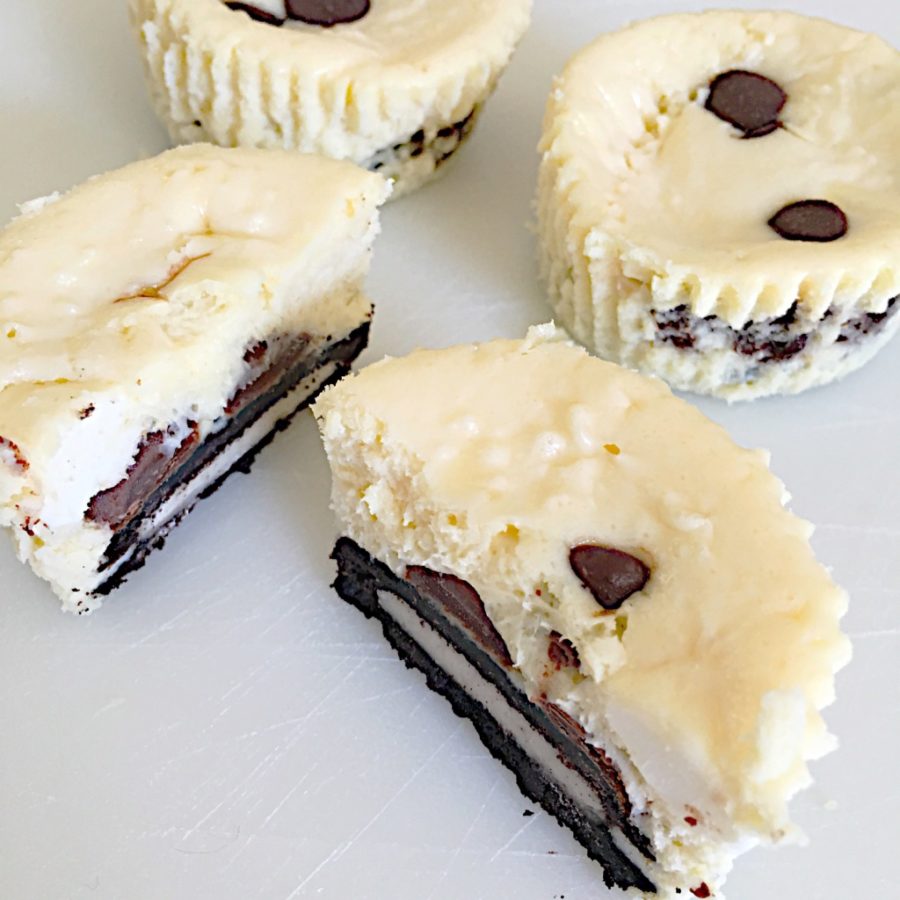 My kids have never been big birthday cake fans, so on their birthdays, I always make something other than cake.  All three will typically choose a different dessert each year, but my son has had mini cheesecakes on repeat for the last few years.  He cannot eat gluten, so I am always trying to adapt recipes to make them gluten-free. My son loves cheesecake and it's nearly impossible to find gluten-free cheesecake at a restaurant or bakery.
As I was making them this year for his birthday, I realized I have been using this same recipe for 25 years!  I can't even remember where I got it, but it's obviously a keeper.  I normally make my own Oreo crust, but this year tried something different and it worked!  Instead of crushing the Oreos for the crust, I used whole cookies as the base.
Mini Cheesecakes
30 Trader Joe's Joe Joe's (or any gluten-free sandwich cookie)
3 packages cream cheese (8 oz. each), softened
1 can sweetened condensed milk
3 large eggs, at room temperature
1 tablespoon vanilla extract
2 cups chocolate chips*, divided
 Directions
Heat oven to 300 degrees.  Line 3o muffin cups (I prefer the foil liners because they are sturdy enough to hold the weight of the cheesecake). Place a Joe Joe in the bottom of each cup.
In a large mixing bowl, beat cream cheese until fluffy.  Gradually beat in sweetened condensed milk.  Add eggs, one at a time, and the vanilla. Stir in 1 3/4cups chocolate chips but set aside 1/4 cup.  Spoon batter into cups until almost full.  Top with remaining chips.  Bake 20 minutes or until set.  Cool and then refrigerate at least 5 hours before serving or overnight.  Refrigerate or freeze leftovers.
*you can use either regular or mini chocolate chips
**you can make these chocolate cheesecakes by melting 1 cup of the chocolate chips and when cooled, add to the cream cheese mix.  Reduce the chocolate chips stirred in down to 3/4 cup and add the remaining 1/4 to the top.
Enjoy!
Natalie xo